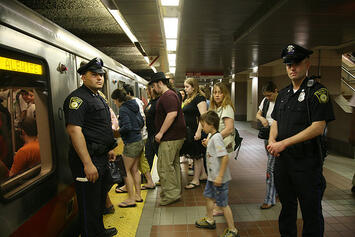 According to the New York City police department, subway crime is up 53 percent so far in 2022 compared with 2021. Since ridership grew by 64 percent in that time period, that means that crime rates per rider have actually fallen, but that doesn't reassure many people.
Nationwide, Federal Transit Administration data show that, through the end of March 2022, transit crime (not counting suicide) is 44.4 percent more than the same period in 2021. This is almost exactly the same as the increase in ridership, which was 44.9 percent. Former riders who are reluctant to return to transit may be justified in not doing so.
Many crimes are directed at transit workers. Assaults on New York City transit operators happen an average of once per day. More than three out of four transit workers say they are afraid to come to work. Transit unions recently sent a letter to Pete Buttigieg and FTA administrator Nuria Fernandez asking them to take more actions to increase transit security, though the real actions must be taken by transit agencies.
BART rider Darrell Owens has a proposal to reduce crime: Decriminalize fare enforcement. BART, he says, spends $2.6 million a year on fare enforcement that results in the collection of less than $30,000 in fares. Sounds like a pretty poor benefit-cost ratio.
The purpose of fare enforcement, however, is not to collect more fares than the cost of enforcement. It is to send a message to potential criminals that they are likely to get caught. If they can't get away with minor crimes such as evading fares, they will be less likely to try to get away with major crimes such as assaults, robberies, and attempted murder.
This is known as the broken windows theory (which name comes from the notion that a building with broken windows is more likely to be broken into than one that is well maintained). While the theory is controversial, there is clear evidence that lack of fare enforcement is correlated with transit crime. As I demonstrated in March, the highest rates of transit crime are associated with light rail, which has the least fare enforcement of any transit mode. The only other mode of transit that comes close is trolley buses, and that is solely due to high crime rates on San Francisco trolley buses — which, like light rail, has minimal fare enforcement. Unlike most other buses, the drivers of San Francisco trolley buses don't check for fare payments as people board.
Owens worries that fare enforcement can quickly turn into police brutality. But police actions aren't necessarily the best way to enforce fares. Instead, turnstiles in subway stations should be replace with gates that can't be crossed without paying a fare. Fences and gates should also be placed around light-rail stations and stops. Once people pass through these gates, they should feel as safe as they do at home or anywhere else. Fare enforcement on buses should be done by the drivers, as has been done for decades except recently in San Francisco and a few other cities.
People should also be protected from falling or being pushed onto tracks by screens between the platforms and the tracks. Doors in the barriers would open only when a train is in the station. This is the way most airport rail systems work as well as many rail systems in other countries.
Such barriers and screens will cost money. Despite the infrastructure bill, rail transit still has a huge backlog of maintenance and repair projects, many of which won't be fixed with money in that bill. All of which raises the question: is rail transit worth it? Outside of New York City, the answer is mostly no. Even in New York City, the value of rail transit is becoming questionable as more people work at home and the job density of Manhattan seems to have permanently declined.
This piece first appeared at The Antiplanner.
---
Randal O'Toole, the Antiplanner, is a policy analyst with nearly 50 years of experience reviewing transportation and land-use plans and the author of The Best-Laid Plans: How Government Planning Harms Your Quality of Life, Your Pocketbook, and Your Future.
Photo: MassDOT, via Flickr under Public Domain. In 2009, MBTA could say that crime had reached a 30-year low. Yet FTA data show that, by 2021, the MBTA suffered almost 19 times as many "security events" as in 2009: 94 vs. 5.