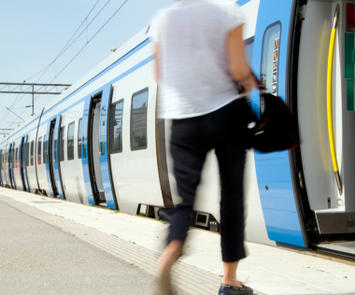 As gas prices inch up toward $5 per gallon, many environmentalists and elected officials are looking to public transit as a solution to higher transportation costs and rising fuel consumption. A closer look at the numbers, however, warrants more than a little skepticism that public transit can fulfill the nation's energy conservation goals.
The US transportation sector is a voracious consumer of fuel, accounting for 28 percent of all energy use in 2006 according to the US Department of Transportation. Petroleum products account for 95 percent of this consumption. Naturally, those interested in conserving natural resources, fossil fuels in particular, would want to focus on reducing oil use. Moving people out of cars and onto public transit seems to make intuitive sense.
It turns out, however, moving people to transit may not be the best strategy after all. According to the US Bureau of Transportation Statistics, a typical transit bus uses 4,235 btu per passenger mile, 20 percent more energy per passenger mile than a passenger car. More interestingly, the amount of energy used by cars has fallen to 3,512 per passenger mile in 2006, an 18 percent drop since 1980. In contrast, the amount of energy used by transit buses increased by 50 percent over the same period, rising to 4,235 btus per passenger mile. Light trucks were not quite so energy friendly as energy use fell by nearly one third to 6,904 btus per passenger mile (although their energy efficiency has remained stable since the mid-1990s).
The long term trend toward more fuel efficient private vehicles is likely to continue as more and more energy-frugal cars such as gasoline-electric hybrids and electric plug-in vehicles become more popular. The Toyota Prius sold its one millionth vehicle in 2008 as it achieved mass production status. Sixty-five hybrid models are expected to be on the US market by the 2010 model year, nearly tripling the current number available. Moreover, all-electric vehicles such as the Tesla sports car are expected to become more popular as consumers become more accepting of personal vehicles fueled by non-traditional technologies. (Notably, Toyota is experimenting with solar panels on new generations of the Prius.)
These trends, of course, don't imply that fuel consumption has declined overall. On the contrary, US motorists are consuming 75.4 million gallons of fuel each year, up 7.8 percent from 1980. Yet, this is remarkably stable trend given the fact vehicle mile traveled have increased by 49 percent since then. Travel demand has more than doubled for light trucks and similar vehicles while fuel consumption by these vehicles increased by just 59 percent. Efficiency gains, then, have effectively compensated for large shares of the increase in travel demand, dramatically reducing the amount of energy used for each mile driven.
Unfortunately, the same can't be said for public transit. While transit ridership has increased significantly over the past year, climbing to 10.3 billion trips during the first quarter of 2008 according to the American Public Transit Association, the overall effect on the travel market has been modest. Long-term, transit's market share for all travel fell from 1.5 percent in 1980 to 1 percent in 2005. Transit's market share for work trips has fallen to 5 percent overall. Meanwhile, the public transit infrastructure – buses, route miles, etc. – has remained largely intact. That means more buses are transporting fewer people, significantly curtailing public transit's energy efficiency. Not surprisingly, the energy intensity for public transit increased on average by 1.5 percent per year from 1970 to 2006.
The story is a little different for passenger rail, which carries about half of the nation's public transit riders (although national data are dominated by ridership in New York City). Transportation consultant Wendell Cox has calculated the energy intensity for other modes of transit in 2005 and found that commuter, heavy, and light rail transit used significantly less energy per passenger mile (about 40%) than public bus or passenger cars.
Yet, the prospect for reducing energy use significantly by improving rail transit's market share of overall travel is slim. Despite double-digit increases, light rail ridership accounts for just 3.4 percent of transit passenger miles nationally . In contrast, commuter and heavy rail ridership growth was just 5.7 percent and 4.4 percent respectfully. Moreover, increased ridership for rail services depend on the availability of other transit services, most notably feeder bus routes as well as urban densities that are difficult to sustain outside a few major cities such as New York, Chicago, or Boston.
Thus, as a practical matter, public transit is unlikely to provide a meaningful solution to reduced energy use in transportation. This becomes clear after looking at travel behavior in the wake of the increase in gas prices over the past year. Overall, public transit ridership increased just 3.3 percent. If we convert ridership into passenger miles traveled – a distance-based rather than trip-based measure – a 3.3 percent increase translates into 1.6 billion passenger miles over the course of a year. That may seem like a big number, until it's compared to overall US travel.
As gas prices went up, US automobile travelers eliminated 112 billion passenger miles from our roadways as vehicle miles traveled fell by 2.3 percent. Even if we assume all the increased transit ridership was accounted for by the migration of automobile travelers to public transit, buses and trains captured fewer than 2 percent of the reduction in automobile-based travel demand.
Thus, in the end, those seeking ways to promote energy conservation are still relying on market forces to affect behavior and resource use. Higher-income consumers value mobility, and automobiles provide the flexibility and adaptability they demand. As energy prices rise, incentives to provide resource stingy alternatives such as hybrid and electric only vehicles increases, stimulating even further innovation that bring down costs over the long run. Meanwhile, contrary to public perception, as fewer segments of the population rely on fixed route transit systems, the relative energy efficiency of public transit declines.
Samuel R. Staley, Ph.D., is director of urban and land use policy at Reason Foundation and co-author of "The Road More Traveled: Why the Congestion Crisis Matters More Than You Think and What We Can Do About It" (Rowman & Littlefield, 2006). He can be contacted at sam.staley@reason.org.