As reported in The Evolving Urban Form: London, last July the Greater London Authority (GLA), located inside the Green Belt, grew strongly from 2001 to 2011, though remains well below its peak estimated population in 1939. Substantial domestic migration from the core area to the exurbs was a major contributor to their growth during between 2000 and 2010 (Figure 1).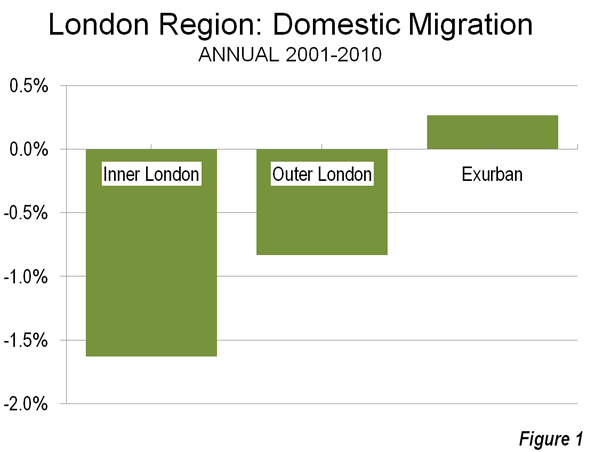 Obviously, with all that growth and all that domestic out-migration, international migration had to be driving the population growth in the GLA. The British Broadcasting Corportation (BBC) confirms that, reporting that, for the first time "white British" residents of GLA represent a minority of the population. At 45 percent, this population segment is down from 58 percent in 2011.
Whites, however, remain a majority, with more than 1.3 who do not consider themselves British, according to the 2011 census data. The combined white population is nearly 60 percent of the GLA total. The table below provides the ethnic data as reported by the Office for National Statistics.
| | | |
| --- | --- | --- |
| Greater London Authority: Ethnicity | | |
| 2011 Census | | |
| | | |
| All categories: Ethnic group |      8,173,941 | 100.0% |
| | | |
| White: English/Welsh/Scottish/Northern Irish/British |      3,669,284 | 44.9% |
| White: Irish |         175,974 | 2.2% |
| White: Gypsy or Irish Traveller |              8,196 | 0.1% |
| White: Other White |      1,033,981 | 12.6% |
| Mixed/multiple ethnic group: White and Black Caribbean |         119,425 | 1.5% |
| Mixed/multiple ethnic group: White and Black African |            65,479 | 0.8% |
| Mixed/multiple ethnic group: White and Asian |         101,500 | 1.2% |
| Mixed/multiple ethnic group: Other Mixed |         118,875 | 1.5% |
| Asian/Asian British: Indian |         542,857 | 6.6% |
| Asian/Asian British: Pakistani |         223,797 | 2.7% |
| Asian/Asian British: Bangladeshi |         222,127 | 2.7% |
| Asian/Asian British: Chinese |         124,250 | 1.5% |
| Asian/Asian British: Other Asian |         398,515 | 4.9% |
| Black/African/Caribbean/Black British: African |         573,931 | 7.0% |
| Black/African/Caribbean/Black British: Caribbean |         344,597 | 4.2% |
| Black/African/Caribbean/Black British: Other Black |         170,112 | 2.1% |
| Other ethnic group: Arab |         106,020 | 1.3% |
| Other ethnic group: Any other ethnic group |         175,021 | 2.1% |
| | | |
| Source: Office for National Statistics, United Kingdom | | |