The restoration of central city living and working environments has been one of the more important developments in the nation's metropolitan areas over the past two decades. Regrettably, a good story has been exaggerated out of all proportion in the print, electronic and online media.  
Exaggerating Core Population Increases: The rise of population in urban cores has been important, but it has too often been used to suggest the apparent, but fallacious opposite, suburban decline. In fact, the suburbs are hardly in decline, with 93.5 percent of major metropolitan area growth outside a 10 mile radius from city hall between the 2000 and 2010 censuses (See: Flocking Elsewhere: The Downtown Growth Story).
Exaggerating CBD Office Space Gains: Similar misinformation had been circulating about office space outside the nation's CBDs (central business districts, or "downtowns"). Commercial real estate information company Costar's Randyl Drummer recently described suburbia's improving fortunes (See: Once Left for Dead, Suburban Office Making a Comeback).
"Some analysts wrote the obituary of the suburban office campus as downsizing companies shed millions of square feet, in many cases consolidating into buildings closer to public transit in urban centers."
It's just not happening, according to Costar research:
"Overall, the suburbs have garnered more than their usual share of leasing demand over the past two years, according to an analysis by CoStar real estate economists. Since the beginning of 2012, suburban markets have accounted for a whopping 87% of office demand -- which is 13% more than their 'fair share' based on the total market size compared with CBD office markets, according to data presented at CoStar's recent third-quarter office review and forecast."
Indeed, CBD leasing, at 13 percent of the total, is a full 50 percent below their current share of inventory (Figure 1). As of mid-2013, the suburbs accounted for nearly three quarters of the nation's office inventory (Figure 2).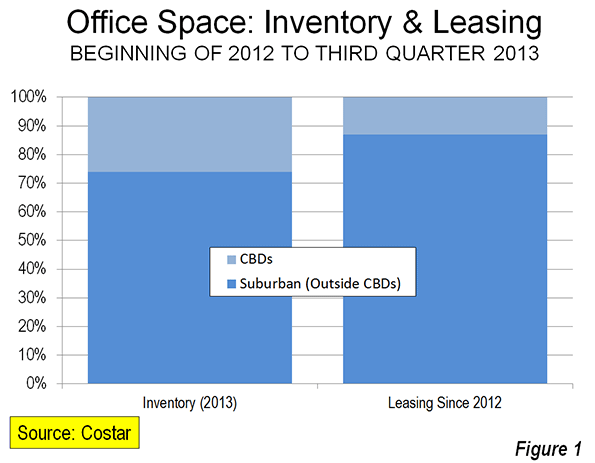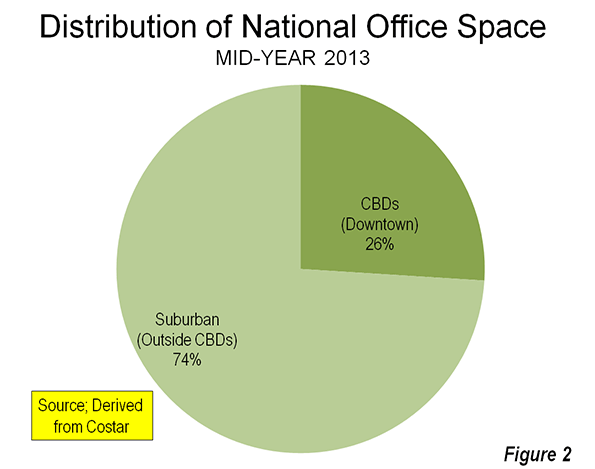 Costar cites strong suburban development in Raleigh's Research Triangle, and further notes that:
A diverse set of markets that include Sacramento, San Jose, Austin, Kansas City and Charlotte have posted some of the strongest net office absorption among suburban markets.
This is despite the glowing publicity being given to core area development, especially in places like Charlotte and Austin.
The reality is that the monumental CBD towers dominating metropolitan skylines do not indicate downtown dominance. In fact, throughout the high income world, most metropolitan employment is outside CBDs. In the United States, typically 90 percent of employment is outside the CBDs. The suburban employment (outside the CBD) share is a bit smaller in Western Europe, Canada and Australia, but still averages approximately 80 percent or more.
The good news is that neither suburbia nor downtown is dead.