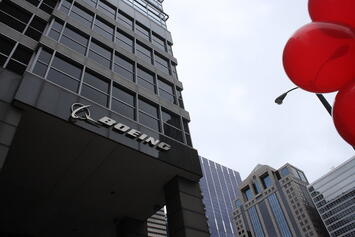 Back in 2008 was I one of the first people to start talking about how corporate headquarters were moving back to the global city in the form of the "executive headquarters." An executive headquarters is one with just the top executives in the firm - from a handful of people up through 500 or so.
Chicago has been a big center and beneficiary of this. Caterpillar, ADM, Miller-Coors, and Mead Johnson Nutrionals all opened executive HQs in Chicago. One of the biggest prizes for the Windy City was Boeing, which moved its HQ from Seattle to Chicago in 2001, with plans to employ 500 people.
Boeing had acquired St. Louis-based McDonnell-Douglas and wanted a location independent of its business units where executives could fly regularly to their facilities and also their main defense customer in Washington, DC. Chicago beat out Dallas because of its superior downtown and cultural amenities. When I lived in Chicago, the story from Boeing people was that their move their was actually more of a plus than they had envisioned. They felt there were big benefits to being embedded in a large corporate community like Chicago's that was not dominated by the tech industry.
Fast forward to today, and the HQ decision looks questionable. First came the move to outsource core components of the new 787 Dreamliner. In 2005 Eamonn Fingleton, in a very prescient article in the American Conservative called "Boeing, Boeing … Gone" predicted this amounted to the hollowing out of the company. The 787 was a troubled project, but it was extremely technically ambitious as well, so it was hard to pin this directly on the outsourcing decision.
Then came Boeing's disastrous 737 Max debacle, in which faulty software caused two planes to crash. It turned out some of this software had been outsourced to $9/hour programmers in India. A thorough review of the program by the FAA appears to have uncovered a number of other issues. At the same time, manufacturing problems also cropped up in the 787. And Boeing's Starliner crew capsule for NASA has been problem plagued. The first test launch failed to reach the International Space Station due to software errors, and the second attempt had to be scrubbed after valve issues arose.
These problems are suggestive of a company that took its eye off the production ball. Some writers have suggested the root of Boeing's problems are in the McDonnell Douglas merger, saying that MD executives ended up taking over the company, replacing Boeing's engineering culture with a more financially oriented one. I don't know for sure.
But I can't help but think the executive headquarters construct played a role in Boeing's problems. Had the company's top executives remained in Seattle, directly on top of the production lines, they might well have gotten ahead of some of these problems.
Now Reuters is reporting that Boeing's Chicago HQ is a ghost town and potentially in jeopardy. The recovery efforts are being run out of the coasts. The CEO spent the beginning of the year in South Carolina fixing production problems there. The new CFO and other executives are based on the East Coast. Other major aerospace and defense contractors like Northrup Grumman and General Dynamics, moved their HQ to Washington, close to the Pentagon. Boeing has a major commercial business, but even so their regulator is in DC. Their incentives in Illinois are also about to expire. Per Reuters:
Several people close to the company say cost cuts and a more hands-on corporate culture have raised questions about Boeing's long-term future in the city, and in turn the broad direction Boeing intends to take as it tries to regain its stride. ...
Boeing was seeking a post-merger headquarters in a neutral location separate from those existing divisional power centers.
But some critics viewed Boeing's Chicago move as a symbol of a company that prized near-term profits and shareholder returns over long-term engineering dominance - a charge repeated after crashes of 737 MAX jets that killed 346 people in 2018 and 2019.
"It began as a way of signaling that they would make future investments without regard to any legacy loyalties," Teal Group analyst Richard Aboulafia said. "To some, it has merely become a way of indicating that they will not make any future investments at all."
I don't think any of this has to do with Chicago as a city. But I do think it raises questions about the executive HQ concept, particularly with engineering based companies. I think it's notable that companies like CAT, ADM, and Mead-Johnson are still day trip distance from their main facilities in downstate Illinois or Indiana. They did not move their HQ too far from actual operations.
It will be interesting to see whether Boeing's travails cause other companies that have adopted a similar HQ structure to make some changes. Boeing itself is a company that's clearly lost its way and has a big hole to dig out of.
This piece first appeared at Heartland Intelligence.
---
Aaron M. Renn is an opinion-leading urban analyst, consultant, speaker and writer on a mission to help America's cities and people thrive and find real success in the 21st century. He focuses on urban, economic development and infrastructure policy in the greater American Midwest. He also regularly contributes to and is cited by national and global media outlets, and his work has appeared in many publications, including the The Guardian, The New York Times and The Washington Post.
Photo credit: Matthew Hughes via Flickr under CC 2.0 License.