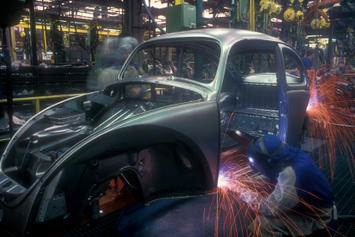 Volkswagen's announcement last week that it will build a new assembly plant in Chattanooga, TN is the latest sign of triumph for the South's growing auto industry. The new plant will sit within close proximity to one Toyota is building north of Tupelo, MS (where the popular Prius will be manufactured), and another that Kia broke ground for last year in West Point, GA on the Alabama border. This joins existing plants such as those operated by Nissan in Nashville and Smyrna, GA, BMW's plant in Spartanburg, SC and three assembly plants in Alabama.
With the average cost of building these facilities at over $1 billion, and the high-paying manufacturing jobs they represent, these plants promise to give the area a substantial industrial base for years to come. On top of all this, BMW even announced a $750 million expansion of its Spartanburg plant in March.
What's interesting about these decisions is how foreign auto manufacturers are all choosing to forego building new facilities in the Upper Midwest where the labor market has many idle, qualified workers. Instead they are heading to locales south of the Mason-Dixon line, where such skilled employees in the past have been comparatively scarce.
The impact has been devastating for the upper Midwest. Michigan, for example, has lost an astounding 34 percent of its auto jobs in the last five years leading to a glut of available and experienced workers. According to the U.S. Dept. of Labor, Michigan still leads the country in auto employment with 181,000 jobs followed by Indiana. But the next three states are something of a surprise: Kentucky, Tennessee, and Alabama.
Why is this happening? Some it may have to do with the fact that recently laid-off workers in Michigan bring habits developed working in unionized environments – something which foreign automakers do not want, even though unions are very powerful in Germany, for example. The United Auto Workers (UAW) has found it hard to organize foreign automakers in general.
In contrast, unions are comparatively weak in the South. Though Alabama has seen a huge jump in the number of its auto workers in recent years, according to its state department of labor, only 7,100 are unionized.Nationwide, according to the Bureau of Labor Statistics, around 12 percent of workers belong to unions compared to just over 10 percent in Alabama. However, the "Yellowhammer State" looks positively union-saturated compared to its neighbors: less than 5 percent of workers in Georgia, Texas, South Carolina, Virginia and North Carolina belong to them.
But it's not only a question of unions. The South is attractive to auto makers due to its network of rail and highway lines that make transport to key markets easy and affordable. Furthermore, many southern cities --- notably Houston, Charleston and Charlotte --- have made big infrastructure investments in recent years.
Another plus for the South has been the growing role of universities in creating a research hub for the auto industry. The Clemson University International Automotive Research Center is the nation's only school to offer a Ph.D. in automotive engineering and has secured $200 million in commitments. Additionally, the South Carolina center has created partnerships beyond auto manufacturers with other universities in the area: Auburn, Mississippi State, Alabama, Alabama-Birmingham, Kentucky and Tennessee.
Alabama has seen the biggest net gain in auto-related jobs, having added more than 30,000 in the last ten years. The state has three plants: a Mercedes-Benz U.S. International in Tuscaloosa, a Honda plant in Lincoln and one for Hyundai-Kia in Montgomery. Additionally, many suppliers have set up shop to service the new Kia plant under construction just over the border in Georgia. A survey by the Alabama Automotive Manufacturer Association found that there are nearly 49,000 auto jobs in the state with another 86,000 jobs that depend on the purchases of these employees resulting in a combined payroll in 2007 of $5.2 billion.
The overall impact of some of these plants may not be felt for a few years since three of them are just in the process of being constructed. But, with new behemoth facilities manufacturing some of the most fuel-efficient vehicles on the road, it appears that an industrial anchor for the region's future has been secured. It also confirms a growing shift in the industrial geography of heavy industry in this country from the traditional Midwestern heartland to regions south of the Mason-Dixon line.
Over time these changes will provide tests for regions both North and South. In the North, regions will have to learn how to compete in higher value-added, specialized industries, as we can see in places like Wisconsin. For the southern areas, the need to maintain and develop sophisticated industrial infrastructure --- particularly in term of skills --- will remain a major challenge in the years ahead.
Andy Sywak is the articles editor for newgeography.com.